WHY PULSE PLATING?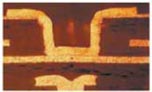 Today's complex printed circuit boards incorporate varying sizes of high aspect ratio plated through holes, micro vias and blind vias all on the same panel. While these parts can be effectively plated with DC plating at very low current densities, and with specially optimized DC chemistries, the impact on factory capacity can be profound and economically impractical. Pulse Plating is THE solution to improved throughput, better surface-to-hole throwing power, and highly reliable plating.
Whether simple pulse plating or pulse periodic reverse plating, pulse has demonstrated proven benefits in the printed circuit board and many metal finishing applications, especially with precious metals:
•

Enhanced throwing power, finer grain structure deposits, improved metal properties and product reliability


•

Faster deposition speed and, therefore, higher line capacity



However, pulse plating alone is not a panacea answer to the plating challenges of today'sworld. BTA

realizes the need to analyze and optimize the entire"plating system," the positioning and fixturing of the parts, the chemistry, the tank (cell) design, with it's particular solution mass transfer capabilities, the power delivery systems and the rectifier. With over 100 combined years of expertise in plating equipment and power electronics,BTA acknowledged thatour missing piece was a chemical specialist.Therefore, eight years ago, we became the only plating equipment system supplier with its own in-house pulse plating development and chemical specialist on staff. BTA is uniquely capable of assisting our clients with the entire plating system and guaranteeing system results:
•

Plating tank design and construction


•

Chemistry optimization and operation


•

Pulse rectifier and waveform optimization



Experience has shown that for most simpler, less difficult, products that a conventional, single frequency ("square waveform") type pulse reverse plating system is an appropriate answer. However, for really challenging boards, having very high aspect ratios and multiple features, a multi-frequency, ("complex" waveform) rectifier is the best solution. Regardless of your needs BTA, has the appropriate rectifier and systems' knowledge for you.