Flexible, Optimized, Production-Scheduling Controls
Advanced real-time simulation/verification of machine layout and present/future capacities & processes.

Ability to run compatible, odd-lot-size parts on a common workbar.

Optimized throughput of process recipes with varying plating times, without requirement for part/rack storage space or queue.

In-depth fault diagnostics.

24/7 Remote modem service (PC & PLC) available.

Extensive part database for enhanced control & traceability.

Available in Windows, UNIX & Linux platforms.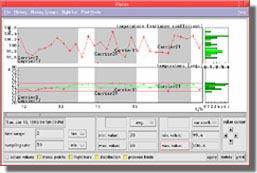 High Reliability, Infra-Red Hoist Positioning System
Permits higher hoist speeds for increased line throughput and/or longer drip times.

"Absolute" positioning, with no mechanical contact.

No reference points, calibration or adjustment required.

High accuracy (+/- .03 inches).

Automatically finds correct location without under/over- travel.

Instantaneous recognition of hoist location in the event of power loss.

Self-diagnostics